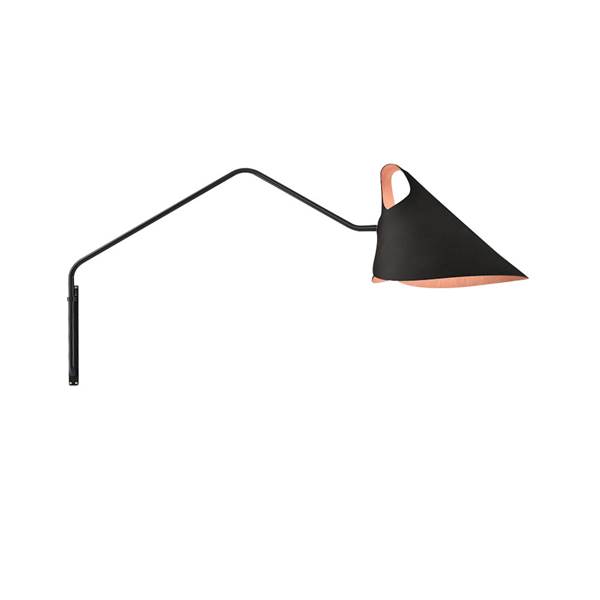 Product Info
Description
Technical Specifications
Made by Jacco Maris
Designed by Jacco Maris
About the mrs.Q range
A leggy, dainty, beautiful product sporting a finely stitched leather hat, the mrs.Q is undoubtedly a modern classic. Jacco Maris has created this distinctive floor lamp with a characteristic leather finish. The perfectly folded leather shade has a timeless, organic look and feel. Combined with the carefully designed metal stand, this lady characterises the mixture of raw elegance. Mrs. Q is also available dressed in complete leather and as a floor and wall lamp, cheering up the rooms she occupies with her bold yet lovable nature.
View the mrs.Q Range
| | |
| --- | --- |
| Width Including Shade: | 1650mm |
| Weight: | 4.00Kg |
| Materials: | Leather |
Jacco Maris mrs.Q Wall Lamp Totally Leather Wall Lamp Totally Leather in Natural
Part of the mrs.Q range by Jacco Maris
Product Code: BBCAMHB2 MQ.WA.TOT/NATURAL
RRP: £

3,175.13
Save: £

158.76
Best price guarantee

(

5

%)
Relax, it's the best price online!
100% Best Price Guarantee valid for 7 days after purchase. Learn more
Free UK shipping on all orders over £100.00
Excludes Scottish Highlands and Islands
Alternative versions available
Black
BBCAMHB8 MQ.WA.TOT/BLACK
Cognac
BBCAMHB4 MQ.WA.TOT/COGNAC
Dark Brown
BBCAMHB6 MQ.WA.TOT/DARK BROWN
Green
BBCAMHB9 MQ.WA.TOT/GREEN
Natural
BBCAMHB2 MQ.WA.TOT/NATURAL
Looking for a discount?
Trade discount available. If you are trade, you may be eligible for extra discount.